One Reel reaches $500K 4th of July fireworks goal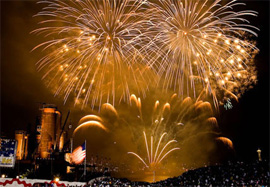 After almost a year of uncertainty, followed by fundraising for the July 4th fireworks at Gas Works Park, event organizer One Reel today announced the $500,000 goal has been reached and Family 4th fireworks show and celebration will go on.
Interesting note: It wasn't a Northwest company or person who got One Reel to the goal; instead support bubbled up from Coca-Cola Refreshments – Northwest Region, based in Bellevue. Other supporters include Microsoft, Starbucks, Nordstrom, Talking Rain, BECU, Charlie's Produce, Merrill Gardens, Taco Time and Smith Brothers Farms.
From the press release:
"Fundraising for the 2011 event began in July of last year, and contributions have come from supporters throughout our region, all with inspiring stories and memories of this Northwest family tradition," says One Reel Executive Director, Jon Stone. "With true appreciation for the partnership and dedication of the Greater Seattle Chamber, we are glad to put this year's budget to bed, and look forward to putting on one heck of an Independence Day party for Seattle."
Family 4th at Lake Union starts at noon at Gas Works Park (2101 N. Northlake Way) on Monday, July 4. The fireworks show begins at 10 p.m. See all our 2010 fireworks coverage here.
Family 4th at Lake Union needs your help
Last year the Family 4th at Lake Union was saved thanks to donations from Seattlites and local companies from the area. Over $500,000 was raised and the fireworks show that followed was considered one of the best ever by many.
The success of last year's fund-raising doesn't mean this year's celebration is all set, however. Although 68 percent of the event budget has been secured, another $162,000 needs to be raised by March 1 in order for the 2011 show to go on.
If you're interested in helping, there's a couple ways to do it.
You can make a donation directly to Family 4th at http://family4th.org by March 1st (site may load slow due to increased traffic).
You can also show your support and encourage others to join the campaign by downloading one of the Family 4th widgets to your website or blog.
4th of July Fireworks show at Gas Works will go on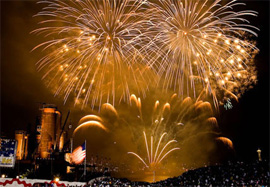 Have a favorite spot picked out on the east side of the hill to watch the 4th of July fireworks over Lake Union? Good news: You can go ahead and make your plans for Independence Day—One Reel announced today that its annual July 4th Fireworks show at Gas Works Park will go on.
One Reel, which organizes the Family 4th at Lake Union, announced Thursday that several key sponsors from last year, including Starbucks, Microsoft, Nordstrom, Charlie's Produce, and Tom Douglas Restaurants, have committed to sponsoring this year's fireworks show, KING 5 reported this morning. You can read the whole story here. Check out the full list of supporters here.
Last year, you'll recall, One Reel initially canceled the fireworks show. But unable to picture a 4th of July in the city without fireworks, local businesses and fireworks lovers banded together to donate the $500,000 necessary to light up the sky (including large pledges from Microsoft and Starbucks). Read more about last year's show here and here.
Because of the immense support the community has thrown behind the fireworks show, One Reel has given the Family 4th the slogan "by the people, for the people." Over the next six weeks the group will be soliciting donations from the community to raise the additional $200,000 needed to fund the show. Those interested can make a donation here to help the Family at the 4th reach its funding goal by March 1.
FarmBoat farmers market floats into Lake Union
While the Queen Anne Farmers Market is closed for the season, that doesn't mean Queen Anne-ers will have to go back to buying their produce at other neighborhood markets, or (gasp) the grocery store. Enter the FarmBoat, the newest addition to Seattle's farmers market scene.
With the goal of re-kindling Puget Sound's historic maritime delivery routes, the FarmBoat folks set off to build a year-round "transient floating farmers market fleet that visits public docks in many Puget Sound waterfront communities selling fresh produce and other local products right off the boat just as it was a century ago." From the FarmBoat website:
This is how farm goods were sold in port communities a century ago. It was more than just sustainable. People flourished here and the Northwest became what it is today. FarmBoat is about turning the clocks back and sharing a traditional and colorful maritime heritage. Back to a time when fruits and vegetables where picked at the peak of perfection and transported over the cool waters of Puget Sound to the cupboards of northwest families.

Small family farms still exist among the islands and near port towns all throughout the Puget Sound region. We connect growers and producers with consumers in a venue that is enjoyable, educational, conducive and commensurate with the superior quality of their products.
FarmBoat's winter floating market is kicking off this Thursday, November 11, from 11 a.m. to 3 p.m. aboard Seattle's historic steamship "Virginia V" docked at Lake Union Park, 860 Terry Ave N. (moored at the park's Historic Boat Wharf), and will continue every Thursday through December 23, (except for Thanksgiving).
Check out the FarmBoat's list of vendors here. Interested in signing up for a CSA (community supported agriculture) produce delivery? The FarmBoat has one of those too—check out the CSA program here.
While FarmBoat is just getting its start, it has some pretty ambitious plans. Take a look at the market's proposed delivery routes, which it plans to use to facilitate trade across the Puget Sound region, from Bellingham, to the San Juan Islands, and all the way down to Olympia. Happy farmers marketing!
Fire aboard 150-foot trawler on Lake Union
A large dispatch of firefighters descended on Northlake Way along Lake Union in Wallingford this evening for a fire aboard a 150-foot trawler.


Firefighters were able to get the upper hand quickly after arriving. My Wallingford has the photos and video from the scene.
The best Lake Union fireworks show ever?
Wow, what a show! First, the rain soaked thousands of people to the bone at Gas Works Park in Wallingford. Then just before 10 p.m., the rain stopped, the skies cleared, and the fireworks lit up the night.


Photo from Joey Anchondo, Seattle Times. See more photos here.
"That was the best ever!" said KING 5 anchor Dennis Bounds, who has presided over many fireworks shows at Lake Union. Our sister blog in Wallingford has all the coverage, from the spectacular show to the scene in Wallingford.
Update: One Reel says the attendance was much lower than anticipated, thanks to the rain. Also, cleanup crews picked up a mountain of trash after the event.