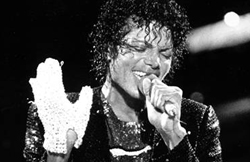 One of our readers asked if I was going to blog about the news related to Michael Jackson's death on June 25th.  I said that generally we stick to reporting the news that is local to Queen Anne and not something of the magnitude of the passing of the 80s pop icon in Los Angeles.  
But, then I thought about it, and I couldn't resist posting a note that I am in LA right now, a mere few blocks from UCLA Medical Center where Michael was brought in. I can tell you that it was chaotic from the moment he arrived and the news hit the police scanners.  No less that 6 news helicopters circled overhead for the entire afternoon and the news crews were out talking with anyone who wanted to make a comment.  The text messages were flying!  I received several from friends in Seattle who knew I was here and wanted to get my "first hand report."
So, there it is.  I stayed away from the crowd, watched the news on TV, and will wait like others for details as they are made available.
For more credible information about Jackson's death, you can try the Yahoo.com or Comcast.net links.  And certainly feel free to post a thought about how you feel about all this.